Viet Nam News SundayFeatures In search of the 'zero waste' holy grail
Wednesday - 06/01/2021 00:24
CLEAN & GREEN: The Japanese Covered Bridge is a popular spot for tourists visiting Hội An, which is planning to become the first zero waste site in Việt Nam. VNS Photo Công Thành
Chef Phạm Tới from the Field restaurant in Hội An ancient town in central Quảng Nam Province designed a "zero waste" party for food-lovers, with salad, steak, and rice all appearing on the one plate.
The shared plate will limit any leftover food while cutting down the number of plates needing water to be washed and the number of wait staff required to serve customers.
This is one of a series of "zero waste" efforts that travel agencies and accommodation providers in the tourism hub have pursued since 2011 in promoting the "3Rs" (reduce, reuse and recycle) as well as a plastic waste reduction campaign.
"We save water and cut kitchen waste and leftover food," he says. "Most organic kitchen waste and resort waste is either composted or made into dishwashing liquid. Environmentally-friendly packaging and glass bottles are also alternative options for tourists."
LEADING THE WAY: Chàm Islands, off the coast of Hội An, was the first locality in Việt Nam to successfully promote waste classification and ban plastic bags. VNS Photo Công Thành
The Field restaurant reduces its daily waste by 10 to 15 kg after recycling organic kitchen waste, and produces 30 kg of materials for chemical-free dishwashing liquid each month.
Vũ Thị Mỹ Hạnh, manager of An Nhiên Farm, says each member of her six-farmer team helps recycle 50 kg of garden waste each day into useable and environmentally-safe bio products, including compost and cleaning detergent.
"Hundreds of litres of used cooking oil are used to produce chemical-free soap, while unused single-use soap bars are recycled into new bars," Hạnh says. "Leaves in gardens or at public sites can be fermented for bio-fertiliser production."
Refillable Hội An, the first refillable concept store in the ancient town, helps local residents refill more than 10,000 containers instead of sending them off to landfill.
Promoting the use of glass bottles will help a 100-room hotel save 20,000 plastic bottles and 17 kg of single-use plastic each day.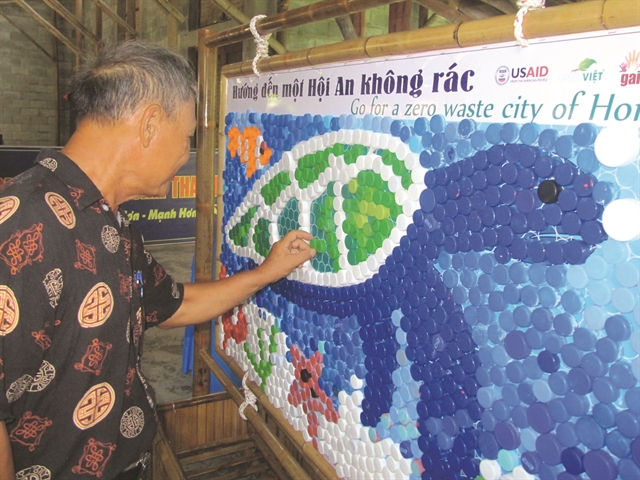 JOINING IN: A Hôi An resident takes part in promoting the 'zero waste' campaign in the tourism hub and on Chàm Islands. VNS Photo Công Thành
She says Hội An should apply a set of principles -- refuse, reduce, recycle, refill, re-use, classify, seek alternatives, reform, and use glass bottles -- in becoming the first "zero waste" site in Việt Nam.
Many craft workshops in the ancient town have been producing straws, containers, and souvenirs from bamboo and reeds to eliminate single-use plastics, while housewives have been encouraged to bring reusable bags to markets instead of taking a plastic bag from vendors.
Phan Xuân Thanh, chairman of the Quảng Nam Tourism Association, says 44 hotels, homestays, villas, restaurants, and travel agencies in Hội An have begun building the "Zero plastic waste tourism" brand and 100 "green" businesses will emerge by 2023.
Poor treatment
Hội An and the Chàm Islands -- two popular destinations in central Việt Nam -- have yet to build effective waste treatment plants, while incinerators operate poorly and emit fumes that may be hazardous.
According to the Chàm Islands' Marine Protected Area management board, the islands' population of 2,200 people release between three and three and a half tonnes of waste each day, with most being burned or sent to landfill.
Nguyễn Thanh Sơn from Hội An's urban and environment company says the city produces 120 tonnes of garbage each day, of which 30 per cent is from tourists, but poor waste treatment has left its major rubbish dump, Cẩm Hà, overloaded and polluted.
Vice chairman of the Hội An people's committee, Nguyễn Minh Lý, says the city will develop a waste recycling network that turns garbage into new products and limits dumping.
It plans to be a "zero single-use plastic waste" and "green" city by 2025.
The Chàm Islands, 20 km off the coast of Hội An, is the first site in Việt Nam to promote the successful reduction of plastic bags and push the "3Rs" campaign, since 2011.
Local residents and tourists have been told not to use plastic bags, and the "say no to single-use plastic straws and cups" campaign was launched in 2019.
Trần Văn Đức, an islander, says the reduction in plastic bags has helped create a clean and green environment that helps increase eco-tourism services.
"Islanders have been encouraged to recycle bags or paper packaging, with leaves used at the local market instead of bags," Đức says.
Residents in Hội An have also been building chemical-free fertiliser and zero-waste agro-tourism garden zones, including in Cẩm Kim, An Mỹ, and Triêm Tây villages along with the popular Trà Quế vegetable village.
Cẩm Thanh Commune in Hội An and Tân Hiệp Commune on the Chàm Islands were selected as locations for the launch of a zero-waste model, promoting waste classification and recycling in the community as well as plastic waste reduction and composting.
SECOND LIFE: Jan Zellmann from Ever Green Lab introduces a board made from low-value waste at his ReForm Facility in Hội An. VNS Photo Công Thành
With total funding of more than US$90,000 from USAID's municipal waste recycling programme via the Global Alliance for Incinerator Alternatives (GAIA), the project will help residents in the two communes reduce the waste they release by 75 to 80 per cent.
"Recycling, composting, and waste classification at the source before disposal are possible solutions for Hội An and the Chàm Islands," says Quách Thị Xuân, a co-ordinator with the Việt Nam Zero Waste Alliance.
Initial effort
Jan Zellmann from Ever Green Lab established the ReForm Facility in Hội An to handle plastic waste from the city itself and from the Chàm Islands.
"We began bringing plastic back from the Chàm Islands last September and are collecting plastic from the Hội An waste processing site," he says.
"During the trial period, in 2020, we converted 25,000 kg of plastic into boards and products."
"We produce different types of boards and will introduce our own furniture catalogue in January. ReForm receives a few orders a day at the moment. We are producing rubbish bins for Hà Nội and Hội An from waste, which is good from an educational perspective."
The ReForm facility, at full capacity, can treat around 1,000 tonnes of plastic waste each year.
"In Hội An, plastic represents 16 per cent of daily waste and half of this is high-value plastic," he says. "We focus on low-value plastic and could process around 50 per cent when at full capacity if recovery and sorting was improved. We currently have to extract the plastic from mixed waste, which is labour-intensive, but we still collect between two and three tonnes a day."
NOTICEABLE EFFECT: Local people collecting waste along the Thu Bồn River in Hội An. Photo courtesy Huỳnh Thu Hương
Half of all plastic waste in Hội An, he says, can be considered valuable and tradable, while the remainder is of low or no value.
Hội An and the Chàm Islands have been receiving support and cooperation from the International Union for the Conservation of Nature and the World Wildlife Fund (WWF) in helping the two communes become the first successful "zero waste" locations in Việt Nam.